Top Attractions when visiting Ho Chi Minh city
Ho Chi Minh city is probably the Vietnam's most booming up city, a place that guarantees the visitors thrilling and chaotic experience. The city is also informally known by its former name as Saigon and many locals still prefer to call the city by that name until today. No trip to Ho Chi Minh city would be complete without visiting these top attractions.
1. Reunification Palace:
This palace is also known as Independence Palace. It was used as home and workplace of the President of South Vietnam during the Vietnam War. The site witnessed the chaotic end to the Vietnam War and the fall of Saigon on April 30, 1975. The building which carries a number of historical values of is designed by Paris-trained Vietnamese architect Ngo Viet Thu with the dissonant 1960s architecture .
Reunification Palace is open to visitors as long as official receptions or meetings aren't taking place. English- and French-speaking guides are also available.
PRICE: adult/child VND 40,000/20,000
HOURS: 7.30-11am & 1-4pm
ADDRESS: 135 Nam Kỳ Khởi Nghĩa street, district 1.
Image by Dinh Doc Lap
2. War Remnants Museum
This is absolutely one of the most popular museums in Vietnam. A visit to the museum is a great opportunity to learn about the Vietnam war from the Vietnamese perspective. The museum portrays the brutality of the war and especially on the civilian victims.
Captions are in Vietnamese and English.
PRICE: VND 15,000
HOURS: 7.30am-12 pm & 1.30-5pm
ADDRESS: 28 Võ Văn Tần street, ward 6, district 3.
Image by Andrew Bain Getty Images
3. Ben Thanh Market
Ben Thanh Market was constructed in 1912 and it is now the oldest surviving market and also an iconic building of Ho Chi Minh city which could be spot on many postcards of the city. The market is rather big with about 1,500 stalls selling a variety of items ranging from textiles, traditional handicrafts, souvenirs, jewelry, t-shirts, hats, coffee, coffee filters, tea, shoes, purse, dried food and many more. The eating section has good selections of Vietnamese food and drinks which is nice to stop for a break after strolling through the hectic market.
Due to its prime location in town, the prices are usually expectedly higher than elsewhere and this gives you a great opportunity to give yourself some bargain training. Do it vigorously and do not let the 'Fixed Price' signs fool you. On a side note, you really want to pay extra attention to your personal belongings. Be fully aware of pickpockets and bag/jewelry snatchers.
Once the indoors market closes at around 5pm, a small night market right just outside takes over until midnight.
HOURS: 5am-5pm
ADDRESS: Le Loi Street, Ben Thanh Ward, District 1.
Image by Peter Stuckings Getty Images
4. Bitexco Financial Tower:
This is Ho Chi Minh's most iconic 68 storey skyscaper at a height of 262 meters. This high rise building houses office, shopping mall, food court, movie theater and apartments. It was designed by New York based architect Carlos Zapata. The building structure was inspired by the shape of a lotus bulb and lotus is widely known as Vietnam's national flower. Located on the 52nd floor on the southern side of the building is the helipad that was designed to resemble a blossoming lotus bud and it is also the first non-rooftop helipad of the country which could carry a helicopter up to 3 tons of weight.
Glass-enclosed observation deck on the 49th floor of the Bitexco serves as an excellent viewpoint to the city for the price at VND 200,000/130,000 (adult/children)
HOUR: 8 am - 11 pm
ADDRESS: 2 Hải Triều street, district 1.
Image by Eternity in an Instant Getty Images
5. Jade Emperor Pagoda (Phuoc Hai Pagoda):
This 100 year-old Jade Emperor Pagoda is certainly one of Saigon's most famous religious buildings and popular to both locals and visitors. It was constructed by the Chinese population living in Saigon dated back in 1909. The main shrine sits the Jade Emperor (Ngoc Hoang), yet it also has other shrines, statues, altars, bas-relief and Buddha sculptures. The turtle pond is there to make your visit even better. The dim lighting with aromatic incense smoke flying around the room creates quiet a scene from Taoist and Buddhist myths. It's quite an ideal place to find yourself some peace and escape from chaotic city life.
Rumor also has it that many local women believe their prayers are granted by the Goddess of Motherhood (Kim Hue Nuong Nuong) at the temple when it comes to love, marriage and fertility.
The pagoda could get really busy at night on the important Buddhist days (e.g the first and 15th day of the month of the lunar calendar), so plan your visit wisely if you do not wish to cry from the incense smoke flooded the whole area.
FREE ENTRANCE
HOURS: 8 am - 5 pm
ADDRESS: 73 Mai Thi Luu street, District 1.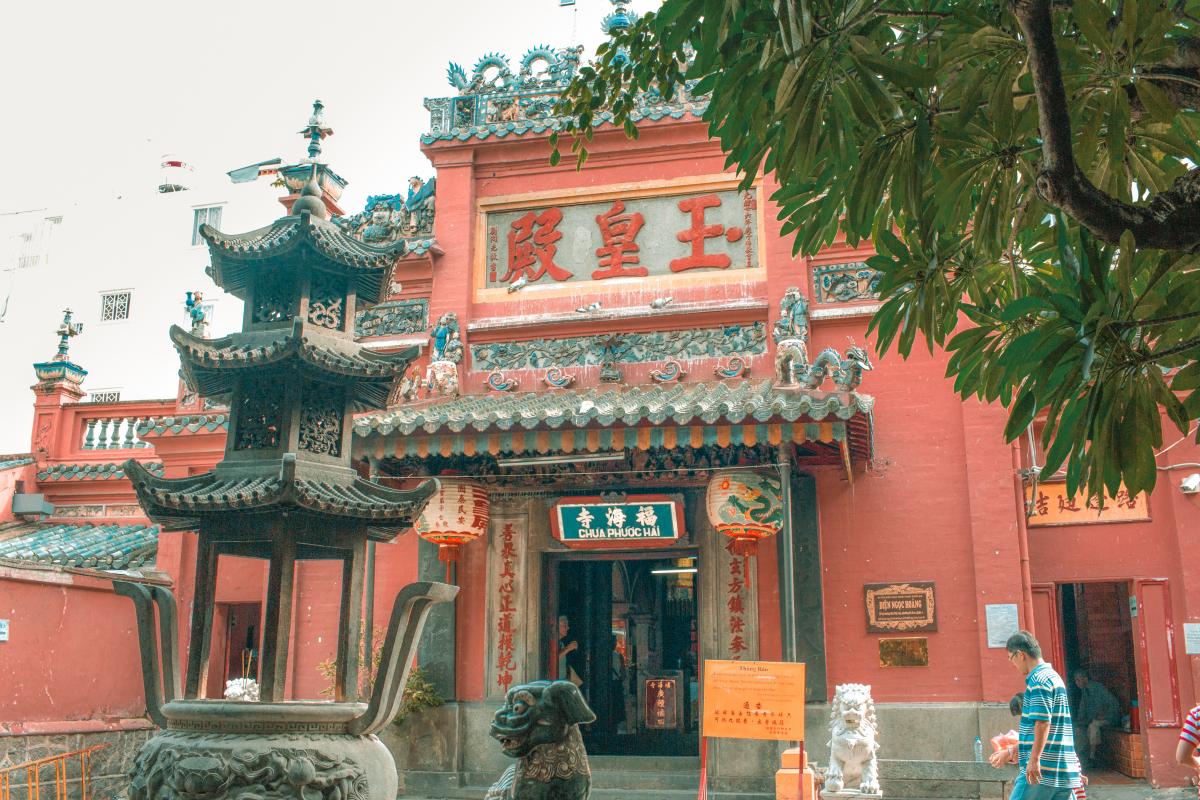 Image by ginkgovoyage
6. Ho Chi Minh City People's Committee:
When visiting Saigon, one could easily spot quite a few French architecture and historical buildings left from the French colonial era. These following buildings are the the country's finest examples of French colonial architecture with Gothic, Renaissance, and French influences which contributes to the unique Indo-China architecture in the heart of Saigon.
At the end of the pedestrian street Nguyen Hue, sits the magnificent office of the Ho Chi Minh City People's Committee. The building was first constructed in 1902 and was completed by 1908. It first functioned as a hotel under the name of Hôtel de Ville de Saïgon before becoming the headquarter for civil servants of the city. The city Hall was designed by French architect Gardes with an elegant French colonial style and was modeled after the City Hall in Paris and has remained as stunning colonial monument especially at night time when its grounds are illuminated and reflects on the building.
ADDRESS: 86 Lê Thánh Tôn street, district 1.
Image by JF Peron
7. Central Post Office
Saigon Central Post Office was built between 1886-1891 and designed by French architect Alfred Foulhoux and it has been ridiculously mistakenly credited as being the work of Gustave Eiffel. The post office features looped arches, marble patterned floor, and striking high and vaulted ceilings.
Painted onto walls overhead at the entrance are two old maps of the region, one of Saigon and its surrounds (1892) and the other of telegraphic routes of South Vietnam and Cambodia (1936).
Until now it is still perhaps the busiest post office in the city, as visitors as well as the locals regularly venture in to see the grand architecture, come in to mail their letters, and buy postcards and stamps.
HOURS: 7 am - 7 pm
ADDRESS: 2 Cong Xa Paris street, district 1.
Image by James Pham/Lonely Planet
8. Notre Dame Cathedral Basilica
The construction first started in 1863 and finished in 1880 by French colonists. The cathedral was designed with a distinctive neo-Romanesque style of architecture with red bricks façade, colored windows, glass squares and two bell towers with six bronze bells that still function well. Some features have been replaced as it was partly destroyed by the war.
NOTE: The Cathedral is under huge renovation and it is expected to take up to 2 years (6/2017-end 2019). Visitors are not allowed to go inside during this period of time for safety reason, yet it is not too bad to admire the building from the outside.
HOURS: 8:00 AM - 11:00 AM and 2:00 PM - 4:00 PM (Sunday is closed)
ADDRESS: 01 Công xã Paris, district 1.
Image by Efired/ Shutterstock
9. Saigon Opera House
Saigon Opera House is also known as The Municipal Theatre of Ho Chi Minh City and considered as is one of the two top venues in Vietnam to listen to opera and classical music. This prominent building was built in 1897 by French architect Eugene Ferret with influence of the Petit Palais, which was constructed during the same year in France. The house has three levels that are directed towards the center stage with total capacity of 800 seats.
Unfortunately, it is only open to the public during events and performances. You could get yourself a ticket of one of the show to have some arty experience in Saigon and yet get to fully appreciate the beauty of the building from the inside.
ADDRESS: 07 Công Trường Lam Sơn, district 1.