A short layover at Tan Son Nhat Airport - What to do in Tan Son Nhat airport?
Before reading this one, please note in mind that Hochiminh and Saigon is just the same name. Right after the war, Saigon was replaced with the name Hochiminh city.
Tan Son Nhat airport is the biggest airport in vietnam. One does not simply staying in the airport when you have a short lay over. Especially downtown Saigon is just 6km away from TanSonNhat Airport. Few note for you to easy to locate the city

- Downtown area is District 1. One would say district 3 also a part of downtown.

- Tan Binh disitrct, in which the airport locates, is one of the biggest district (It is also where Suvihem locate ;).
In this post, we would focus on WHAT TO DO NEARBY TAN SON NHAT AIRPORT? If you just want to chill before your flight, there are plenty of option for you.

1. Entertainment:
Bowling at Superbowl:
- This is the first bowling center in Saigon, and only 5 minutes walk from Tan Son Nhat airport.
- 1 game would cost around 3-4usd
Watching a lasted movie:


Most of cinema in Vietnam is run by big Korean corporation like Lotte Cinema, or CGV. Turns out it is a good thing for movie lovers because some of the movie would be premier even early than your home country.
Here is few option for you.
Lotte Cinema Cong Hoa ( Pico Plaza, 20 Cộng Hòa, Phường 12, Tân Bình, Hồ Chí Minh)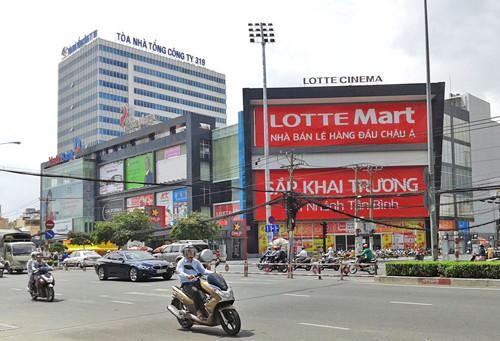 CGV Liberty Hoang Van Thu
415 Hoàng Văn Thụ, Phường 2, Tân Bình, Hồ Chí Minh
2. Local Attraction :
Giac Lam pagoda locate around 3.5 km from Tan Son Nhat Airport
Giác Lâm Pagoda (Vietnamese: Chùa Giác Lâm; chữ Hán: 覺林寺, Giác Lâm tự) is a historic Buddhist pagoda in Ho Chi Minh City, the largest city in Vietnam. Built in 1744, it is one of the oldest temples in the city. It was officially listed as a historical site by the Vietnamese Department of Culture on November 16, 1988 under Decision 1288 VH/QD.[1] The pagoda is located at 118 Lạc Long Quân, in the 23rd ward of Tân Bình district, in the Phú Thọ Hòa region of the city.[1] It stands on Cẩm Sơn, and is also known as Cẩm Đệm and Sơn Can. (Source: Wikipedia)
3. Eat Local food
a. Pho Phu Vuong
With a tradition recipes with great taste, tender beef and best of all is no reaction to MSG.
b. Banh my Hoang Yen(Vietnamese baguette)
Address: 417, Hoàng Văn Thụ, Phường 2, Quận Tân Bình, Thành Phố Hồ Chí Minh.
Crunchy from the outside, and tasty from the inside. A taste of heaven is here! If you never try Vietnamese bagguett before, it is a good time to try. Cost only 70cents.
4. Try the Local Market - Pham Van Hai market
Feel the hassle of the local market, the busty of the street, the freshness of the local fruits. Locates only 3km from the airport, you could experience the local life at first hand. Inside the market, there are hundreds of wholesale stalls waiting for your bargain skill ( Please watch the bargain technique in youtube, before starting your visit ;) )
And outside of the market are plentys of local street food talls. You can find local dishes from Northern, Central, and Souther Vietnam at this market. And do not forget to try some Snails with butter and garlic (This is something we put the French to shame when comes to snail) .

A place to stay near the Ho Chi Minh Airport
We are Suvihem, a small family run hostel. We are opening from January, 2018. We are a perfect haven for your short trip in Hochiminh city. We are looking forward to seeing you at our hostel.