Top 10 Must-Try Dishes in Vietnam
Regarded as one of the healthiest cuisines in the world, Vietnamese cuisine shares some fundamental traits which focus on the freshness of the food through simple cooking method with rather minimal use of oil, abundant presence of herbs (e.g Vietnamese mint, basil, ginger, lemongrass, coriander, green onion leaves, etc.) and vegetables and the pleasing-to-the-eye presentation of the dish.
Due to historical contact with China, the philosophy of Yin and Yang does have incredible influence on Vietnamese cooking which is about the balance incorporation between the"sweet" and the "salty", the "cool" and the "hot". The Asian principle of the five elements of spicy, sour, biter, salty and sweet are featured as characteristic flavors.
If I could be honest, the list of my favorite Vietnamese food could go on and on up to at least 50. It might sound tempting to do so for me, but I have tried my best to go easy on you and narrow this list down to top 10 dishes that I personally think everyone should try on their visit to Vietnam. Here we go!
1. Bún Thịt Nướng Chả Giò ( Vermicelli Noodles with Char Grilled Pork and Spring Rolls):
This is my all time favorite noodle dish and definitely a must-try especially if you are trying to eat healthy on your vacation (yea I know the struggle of eating healthy when traveling is REAL!). It is pure love, harmony and happiness in one (colorful) bowl usually assembled with layers of fresh vegetables and herbs , noodles, crunchy spring rolls, and the grilled marinated pork. It has the sweet tangy (fish) sauce and crushed roasted peanut sprinkled over the top of the noodles to enhance the flavour. Deliciously addictive alert!
Image by Hungry Huy
2. Cơm Tấm Sườn Chả (Broken Rice with Grilled Pork Chop and Meat Loaf):
As you might have already figured that we Vietnamese love rice and the truth is we could just eat rice any time of the day. This dish is actually a popular go-to breakfast for many locals as it keeps us satisfied until lunch. The well-marinated pork chop is grilled over the hot coals to get the smokey flavour and laid on the bed of steamed broken rice together with the meatoaf and slices of cucumber and tomato. The Vietnamese meat loaf is actually a combination of minced pork, egg, mung bean noodles, wood ear mushrooms and it is steamed until thoroughly cooked and get the desired texture. Fried sunny side up egg is also very common to have with the rice.
Image by cooky.vn
3. Bún Bò Huế (Spicy Beef Noodle Soup):
Though I was born and raised in Saigon, my parents are from the Vietnamese central city of Huế which is the place where this dish originated from. My mom does cook it very often for us at home and it is definitely one of my favorite comfort food to eat growing up. The broth is cooked with beef brisket/shank, with hints of lemongrass, fish sauce, shrimp paste, chilli and shallots. This rich and complex bowl of noodle explodes with so much flavors and you will need to find out for yourself. This dish could be found almost everywhere in Vietnam, so you do not need to travel all the way to Hue if you wish to try this hearty bowl of noodle.

Image by Hungry Huy
4. Bánh Cuốn (Steamed Rice Rolls)
This dish is one of those Vietnamese dishes that I craved very much during my time living abroad. It was painfully hard to find any restaurant in Finland that had this item on the menu. Bánh Cuốn are thin sheets of steamed rice flour and tapioca starch batter which are loosely rolled with flavourful filling of ground pork and woodear mushroom. The dish is served with Vietnamese ham, blanched bean sprouts, jullienned cucumbers, fresh chopped greens, fried shallots and fish sauce dipping sauce on the side. On the side note, watching these pretty rolls being made is quite mesmerizing, so grab the opportunity if you could.
Image by foody.vn
5. Hủ Tiếu (Chewy Noodle Soup):
Here comes another type of noodle soup. Yes we have different kinds of noodle coming with different textures and shapes. Though Hủ Tiếu itself has quite a few versions, but I am not going into that as I know it is already confusing enough.
People in the South especially loves Hủ Tiếu. I personally love the broth as it does not have the intense taste, but rather mellow pork flavor with the great balance of salty, sweetness and richness to it. The toppings cover a wide veriety, and usually include boneless pork, pork ribs, ground pork, shrimp, squid, fried garlic, fried shallot and some chopped green onions and cilantro.
Image by foody.vn
6. Bánh Mì (Vietnamese baguette)
This legacy food was first introduced by the the French during their colonial period in 19th century and has been long the staple food for the locals in Vietnam. Bánh mì stalls and carts are everywhere in the streets of Vietnam. The bread used is rather fluffier which makes it easier to hold in the fillings. There is great variety of filling for your choice. It typical consists Vietnamese sausage, fried sunny side up egg, marinated pork or chicken, pâté and lots of vegetables (cucumbers, cilantro, fresh chiles, pickled daikon and carrots). Every bite on the Bánh Mì is purely filled with happiness.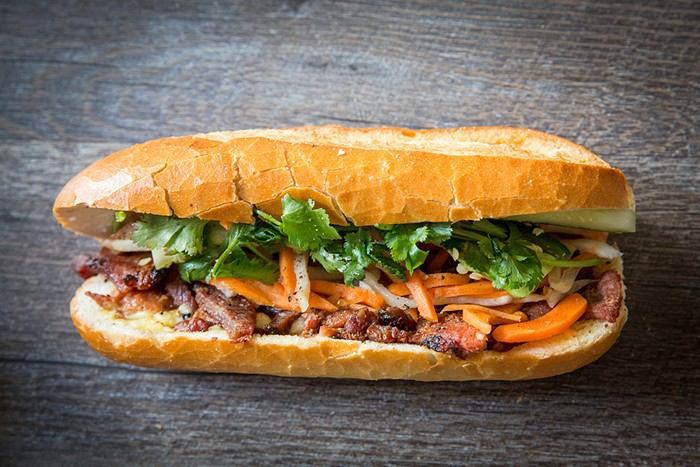 Image by kenh14.vn
7. Bánh Xèo (Sizzling rice pancake)
The locals love to eat Bánh Xèo with friends and family and for us it is the only best way to enjoy it. Frankly speaking, this dish is not something we would normally make and eat alone at home. The name "Xèo" refers to the sizzling sound it makes when the batter is cooked on the hot frying pan. The pancake batter is usually made from rice flour, coconut milk, turmeric and chopped green onion with the fillings of stuffed with cooked pork, shrimps, mung beans and bean sprouts. The best way to enjoy the pancake is to eat it with plenty of greens. The lettuce leaf is to wrap a piece of the pancake with different type of herbs like Thai basil, fish leaf, mint and there is the dipping fish sauce on the side.
Image by Hungry Huy
9. Thịt trứng kho tàu (Braised Caramelized pork with egg)
Hands down to the ultimate frugal Vietnamese comfort food! Every Vietnamese I know adores this dish. Though it is a very classic hearty daily meal, it is also the must-have traditional food during Tết (Vietnamese new year). The pork belly and boiled eggs are slowly braised in a bit of caramelize fish sauce and plenty of coconut juice. It is best to eat with rice and pickled or boiled veggies to offset the richness from the pork.
Image by Hungry Huy
10. Phở:
This is perhaps the most well-known dish from Vietnam and it would be a shame if it was not mentioned on this post. It is considered as the national noodle soup and it can be seen everywhere from the street stalls to high-end restaurants. While beef phở is preferred by most people, the chicken pho also has great flavor and less intense. The complex broth is traditionally made from beef bone (or chicken for the chicken version), char broiled ginger and onion and different types of spices (star anise, cinnamon, peppercorns, cloves and coriander seeds). It is preferably cooked overnight on the low heat as it allows to get the sweetness from the ingredients and helps to get the broth crystal clear. Phở is served with the specific phở rice noodle in the flavorful broth with thin cuts of beef as the topping and green onion and cilantro as ganishing. Of course there is also a plate with plenty of green herbs on the side.
Image by Becca